Table of Contents
Welcome to Replay Media Catcher for Mac
Replay Media Catcher for Mac brings many of the great features that our PC users have had for years to the Macintosh desktop while maintaining the simplicity that Mac users expect.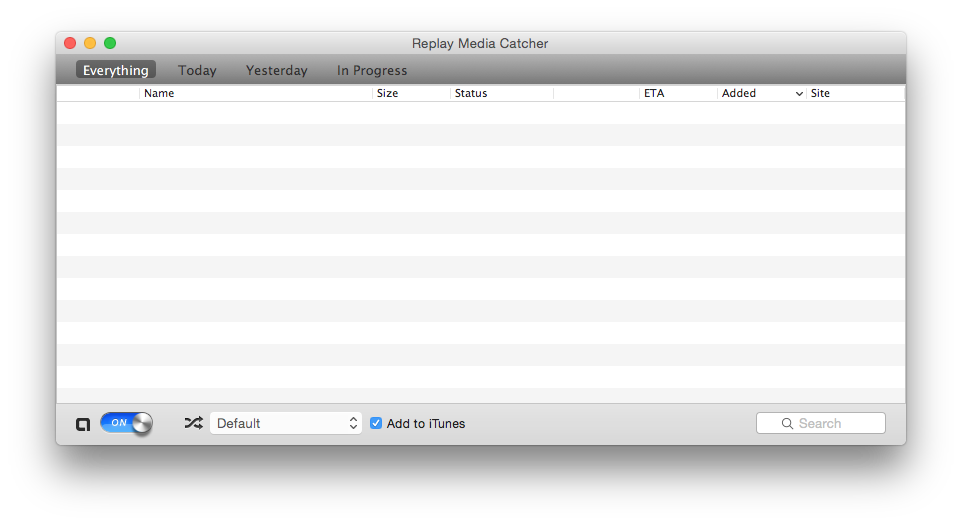 Using Replay Media Catcher for Mac is as easy as clicking the monitoring switch from

to

. Replay Media Catcher for Mac will then monitor your incoming network connections for media. As you surf the internet with your favorite browser, when media is identified, it will be saved.
Overview and Use
Replay Media Catcher for Mac is an easy, yet powerful way to capture video and audio files from thousands of web sites as they play in any web browser. These files can be transferred to smartphones or tablets, burned to a CD or DVD disc, or incorporated into other programs like Keynote or video editors.
Replay Media Catcher locates the web address of the media file, reconnects to the host server, and makes an exact copy of the file on your Mac. Typically, this download process is much faster than actually playing the file. Replay Media Catcher also can make multiple simultaneous connections to further speed up the capture process. For example, download music from Pandora and videos from YouTube at the same time. Once the download process starts, you can close the video or audio player, and the file will continue to be captured.
Note: Some web sites use encryption when streaming video. Replay Media Catcher cannot downloaded these encrypted streams. Other sites require the media to be recorded in realtime.
From top to bottom and left to right, the interface is laid out as follows:
History selection bar



If you save a lot of media, you might not want to view it all at once. With the History selection bar, you can choose to show all downloads, downloads that occurred Today, Yesterday, or only downloads that are currently In Progress.

Saved media listing


The Saved media listing will show you all of your media, based on the selection from the History bar. Clicking the header of each column will change the sorting order. The position of each column can be rearranged by drag and drop. If you highlight a download, you will be given additional options to play , manually send to iTunes , or remove  the item.

Monitoring switch


The monitoring switch at the bottom left lets you turn on and off the monitoring of streaming media. When On, Replay Media Catcher will watch you network data for anything that appears to be media, and that media will be saved.

Conversion settings pulldown


The conversion settings pulldown will allow you to convert saved media automatically to various formats. The Default setting will convert your media into a format compatible with iTunes and iOS devices. If you want to convert to a format specific for a device, the pulldown offers many other options.

Add to iTunes button


If selected, all new downloads and respective conversions that are in iTunes compatible formats will be sent to the iTunes Library.

Search


If you have a very large number of saved files, the Search field can help find specific files.
If you right-click on an entry in the saved media listing, you will be presented with additional actions:


Reveal in Finder: Opens a Macintosh Finder window to the file's location
Play: Opens the default filetype player for the saved media
Convert: Performs an optimized (very fast) conversion on the file to the format chosen in the Conversion settings dropdown.
Convert (Safe): Performs a non-optimized (slower) conversion on the file to the format chosen in the Conversion settings dropdown.
Convert to Audio File: Converts the media into a MP3
Cancel: Stops the current action
Delete: Deletes the file from Replay Media Catcher, sending the file to the trash can
Preferences: Customizing RMC
The RMC Preferences are accessible via the main menu under Replay Media Catcher -> Preferences....
General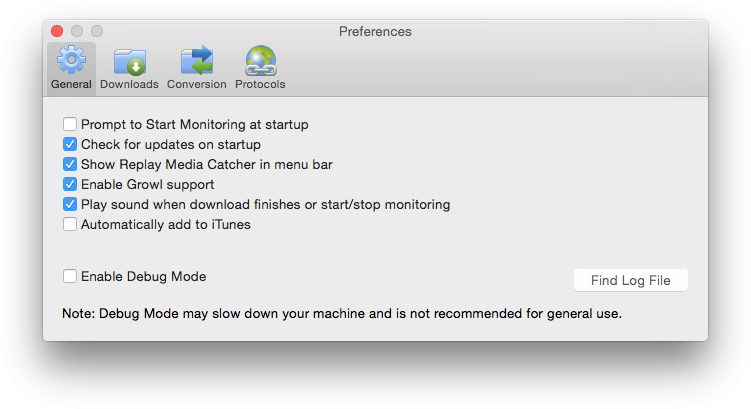 Prompt to Start Monitoring at startup: If checked, show the welcome video and wait to begin monitoring for media. If not checked, Replay Media Catcher will automatically start monitoring when opened.
Check for Updates on Startup: Will check to see if there is a new version available to download.
Show Replay Media Catcher in menu bar: Turns on or off the display of the Replay Media Catcher icon and menu in the OSX menu bar.
Enable Growl support: Growl is used to discreetly show you when a stream has been detected and is downloading or completed. You can turn this on or off.
Play sound when download finishes or start/stop monitoring: Enables audio feedback
Automatically add to iTunes: Will add all iTunes compatible downloads to your iTunes library when they are finished downloading and converting
Enable debug mode: Use this only when requested by technical support. It generates a more detailed log if you should need help.
Find Log File: This is very helpful. If you are submitting a tech support ticket, we can help you better if you attach your log file.
Downloads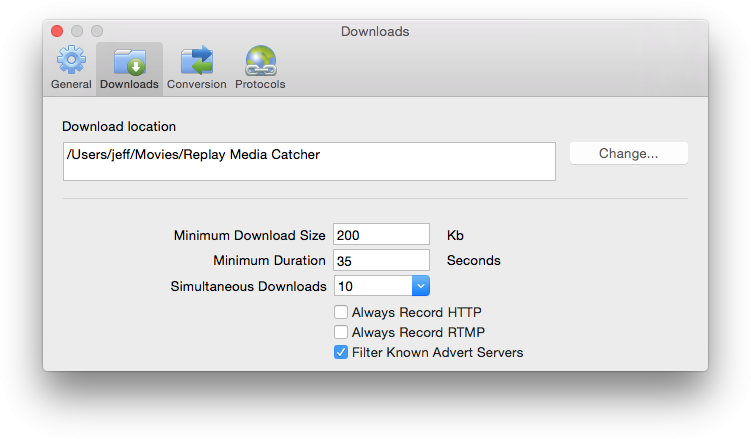 Download location: Set the folder where you'd like to keep your downloaded media.
Minimum Download Size: Specifies the smallest file that is saved. Many times when recording, small Flash animations or advertisement files can be captured. You can increase the size if you discover you are getting too many unwanted files.
Simultaneous Downloads: The is the maximum number of downloads happening at any one time
Always Record HTTP: When checked, HTTP streams will be recorded rather than downloaded
Always Record RTMP: When checked, RTMP streams will be recorded rather than downloaded
Filter Known Advert Servers: Will stop advertisements from known servers from downloading
Conversion

Conversion Location: Set the folder that you would like to save your converted files
Multi Core Conversions: If enabled, will use additional CPU cores (if available). This can result in faster conversions, but uses more processing power.
Protocols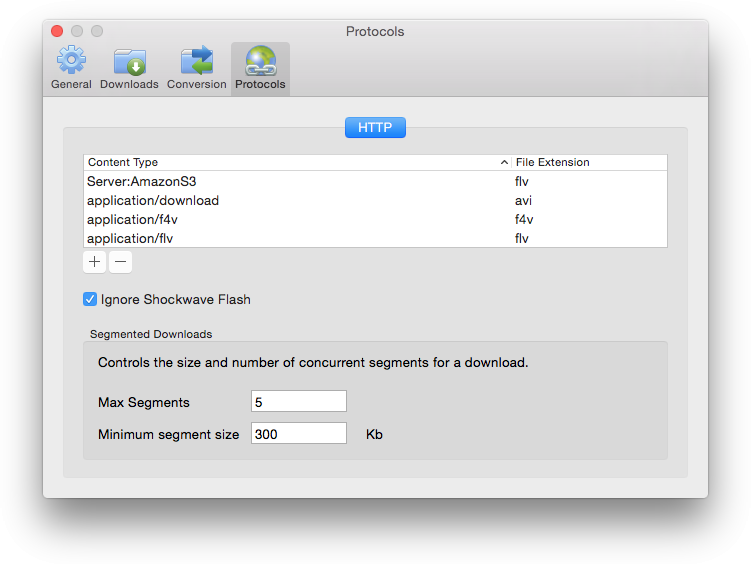 This dialog shows the HTTP content types that Replay Media Catcher recognizes, and what extension it adds to the saved file. You will only need to change this if you are technically savvy, and a new media type is discovered.
These streaming protocols are supported:
Streamed via HTTP download on port 80, 81, 82, 83 and 8080:

FLV

WMA

WMV

ICECAST

WMX

Real Audio

Real Video

ASF

MP3

MP4

3GP

MOV

AVI

DIVX

Streamed via RTMP on ports 1935 and 443:

Ignore Shockwave Flash: Leave this checked if you want to ignore SWF files like flash banner ads
Max number of segments: When Replay Media Catcher begins a download, it asks for different parts of the media simultaneously. This effectively speeds up the downloading process. If you find that too much network bandwidth is being used, reduce this number. Increasing this to more than 5 segments won't speed up downloads though.
Minimum Segment size: Lets you determine how big the smallest segments to download should be. For example, if this is set to 300 Kb, and the size of the video to be downloaded is 300 Kb, then a single request will be used. For smaller media files, downloading with a single request is faster than using multiple segments.